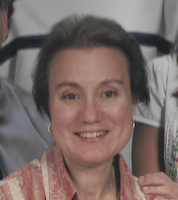 Maria V. Carra
Type Obit Here Maria V. Carra, 60, passed away peacefully on Sunday, January 7, 2018 at her home in Endwell, NY. She was born in Rome, NY, on January 28, 1957, daughter of the late Raffaele and Eugenia Imperiale Brasacchio. Maria is survived by her loving husband of 33 years, Michael Carra; her dear children, Christopher and Regina of New York City, her brother, Dr. Ralph A. Brasacchio of Victor, NY, and several in-laws, nieces, nephews and cousins, as well as lifetime friends.
Maria graduated with a M.S.in Counseling and College Student Services from the State University at Albany before starting a 28 year career as a college administrator in residential life and student affairs at Binghamton University. Maria held a deep commitment to serving students through her various professional positions at BU.
Maria also volunteered as an officer, committee member and chair for various community and school district programs and organizations, in particular the Maine-Endwell PTA, Music Boosters and M-E School District. Because of her outstanding contributions, Maria was recognized as an Honorary Life Member of the PTA by the NYS Congress of Parents and Teachers. She was a major coordinator of the M-E After-Prom Party for many years and an initial grassroots organizer of the M-E Dollars for Scholars; and as a Girl Scout troop leader she helped many girls achieve high awards in scouting. Maria's contagious volunteer spirit along with her boundless energy inspired all those around her.
A funeral Mass will be held on Tuesday, January 16, at 10:00 am at the Church of the Holy Family, Phyllis Street, Endwell, NY. Burial will be at Riverhurst Cemetery. The family will receive friends at Coleman and Daniels Funeral Home, 300 E Main Street, Endicott, NY from 5:00 pm to 7:30 pm on Monday, January 15, 2018. Condolences can be made at colemananddaniels.com
Contributions can be made in Maria's memory to Maine-Endwell Dollars for Scholars (maine-endwell.dollarsforscholars.org). Her family would like to extend its appreciation to Lourdes Hospice.
"We will always carry your memory in our hearts".