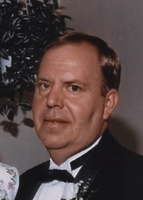 Terence Nelson Tripp
Terence N. Tripp passed away peacefully March 28, 2018. Born in Johnson City, NY on May 2, 1945, Terry was the youngest son of the late John Lawrence and Kathryn Ruth (Wood) Tripp. He met his wife, Bonnie (Biggs) of 51 years in March of 1966, and they were married on July 2, 1966. Terry was devoted to his family and is survived by his wife Bonnie, their three children and spouses, Barbara Hubschmitt and her husband George, Donald Tripp and his wife Jaclyn, Stacie Fancher and her husband Carmen, and their grandchildren Jenna, Kyle, and Will Hubschmitt, Lauren Tripp and Jack Stevens. Terry is also survived by his brother, Jack Tripp and his wife Patricia, his sisters, Nancy Leahy and Susan Nazak, and many nieces and nephews. He is predeceased by his brother, David Tripp.
Terry attended Johnson City High School and served in the U.S. Navy and the Navy Reserves. While in active duty, Terry was awarded the National Defense Service Medal. He was employed by The Town of Union for 21 years. Terry had many hobbies throughout the years including hunting, fishing, photography and woodworking. He was active in his children's scouting and youth sports activities, particularly during their participation in Johnson City youth baseball and softball.
The family will receive relatives and friends on Monday April 2, 2018 from 5:00 to 7:00 in the evening at Coleman & Daniels Funeral Home, 300 E. Main Street, Endicott, NY. A funeral service will be held on Tuesday, April 3, 2018 at 10:00 a.m., also at Coleman & Daniels Funeral Home. Burial will immediately follow the service at Vestal Hills Memorial Park. In lieu of flowers, the family requests that donations are made in Terry's name to Lourdes Hospice, 4102 Vestal Road, Vestal, NY. Rest in eternal peace Terry, Dad, Grandpa and Papa; we love and miss you.