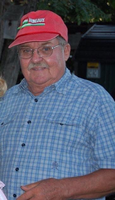 Joseph Pinter
Jozsef Pinter, 83, of Apalachin passed away unexpectedly early Monday, July 24th, 2017, while living his lifelong dream of taking care of his home and the love of his life "Rosie". He is survived by his wife of 60 years, Marian Pinter, his daughter, Jo-an Moss, his son, Joseph Pinter JR., daughter, Jamie (Jay) Johnson, brother, Rudolf Pinter, grand-daughters, Brandy (Seth) Ravert, Jordan (Dana) Marsh, Kailey and Emily Pinter, Kenzie and Alexa Johnson, as well as, several great-grandchildren, cousins, nieces and nephews. He was predeceased by his father, Jozsef Pinter and mother, Viktoria Pinter, brothers Vill, Geza and Tibor and sister, Maria.
While Joe was living in Hungary he succeeded as a master tradesman and professor before serving in the Hungarian Army. Upon coming to the U.S., in 1956, Joe was active in the United States Army. In 1959 Joe began his next journey at IBM. Prospering over 35 years into a Senior Designer with several patents he then entered the next chapter of his life ~ retirement. Joe was an avid fishermen and enjoyed tinkering on everyone's machinery in exchange for their company. Joe loved gardening and could make anything grow. He adored his animals, especially his fallow deer.
Joe was a tender-hearted "Old Hunky". He was loved, admired and respected by so many and will be truly missed by more than it is possible to name.
There will be a Celebration of Joe's life held at the Little Meadows Fire Hall on August 9th from 5PM-8PM.