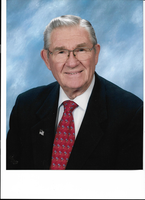 Walter M Smith
Walter Marshall Smith of Vestal, New York, age 93, passed away on January 1, 2019. He was born November 21, 1925 in Pataskala, Ohio to George J. C. Smith and Jessie Beasley Smith. After graduating from Pataskala High School, he entered the U.S. Navy serving aboard several escort carriers, the USS Core, Corregidor, Matanikau, in multiple campaigns in the Pacific. After he was honorably discharged in 1946, he attended and graduated from The Ohio State University with a bachelor degree in Agriculture and Natural Resources. He then married the love of his life, Marjorie Louise Whitney on June 19, 1949. He was employed by the Ohio Division of Wildlife and The Chambers of Commerce in Vanwert, Bucyrus, and Findlay Ohio and later at Broome County Chamber in Vestal, New York. He was the author of many short stories including Romance of Trash and Love Cases. He was an active member of Escort Carrier Sailors and Airmen Association, ECSAA, serving as governor for one year. He enjoyed the outdoors, fishing, hunting, traveling, and spending time with family and friends.
He was predeceased by his parents, his brother Earl Smith, and his wife Marjorie. Survivors include: daughter Sheri Smith Fitzgerald, grandchildren Ryan (Kate) Fitzgerald, Sean Fitzgerald, and Erin (Louis) Sisto, and sister, Ruth Stone, and nephews, David, Don, George and niece Kathy. He is also survived by friend and neighbor Cedric and longtime friend Peg and faithful dog Buckie.
The viewing will be at Grace Point Church in Vest al, New York on Saturday, January 5,2019 from 10:00 am-11:00am, followed by a service at 11:00 am and luncheon. Expressions of sympathy may be made in his memory to the charity of one's choice.