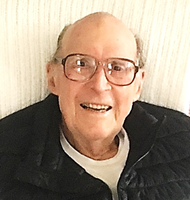 Walter W. Williams
VESTAL – WALTER W. WILLIAMS Jr. died March 7, 2019 at Binghamton General Hospital after a lengthy illness. He was 86.
Born in Johnson City, NY, he resided there, in Binghamton, Port Crane, Long Beach, CA, Kingston and Pine Bush, NY before moving back to Binghamton and finally to Vestal, where he lived for the past 57 years.
He was predeceased by his parents Walter and Georgia Williams, his sister Dolores Dopp and her husband Dave, and his grandson Sean Williams. He is survived by his wife of 66 years and love of his life Gloria; son Christopher and wife Linda; son Mark and wife Jan; granddaughters Kerri Williams, Brigette Hancy, and Erin Burke; great-grandchildren Katie Grove, Benjamin Hancy, and Sara Hancy. He is also survived by his brother Doug and wife Dolly; sisters Joan and husband Don Smith, and Barbara Williams and husband John Furman. He was also a beloved uncle, great uncle, and cousin, and leaves many close friends made throughout his life, especially his Navy shipmate and lifelong friend, Benjamin "Swede" Swenson and his wife Joyce.
Walt served in the US Navy during the Korean War aboard the USS Higbee (DDR-806), achieving the rank of Petty Officer, First Class.
Hired by IBM immediately after his honorable discharge from the Navy in 1956, he enjoyed a 36-year career with "Big Blue," retiring in 1991.
Walt was also a member, teacher, lay leader, trustee, and past President of the Administrative Board at Tabernacle United Methodist Church in Binghamton.
Calling hours will be held on Monday, March 11th, 10:00AM – 12:00PM, at Coleman & Daniels Funeral Home, 765 Main Street, Vestal. Funeral will be held immediately after calling hours with internment at Vestal Hills Cemetery. For directions to the funeral home, please visit: www.colemananddaniels.com.
In lieu of flowers, contributions may be made in Walt's memory to Lourdes Hospice https://www.lourdes.com/about-us/foundation/donate-online (designate Lourdes Hospice).