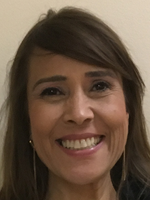 Rossilene Fiuza Thomas
Rossilene (Rose) Fiuza Thomas passed away unexpectedly at her home in Endicott, NY on Friday, May 24, 2019. Rose, a Brazilian native, was born March 26, 1964 in the city of Porto Alegre in southern Brazil to parents, Manoel Rodrigues da Silva and Juarez Fiuza da Silva, who predeceased her.
Rose is survived by her loving husband, Scott H. Thomas. She is also survived by her daughter, Vanessa Wiest Rodrigues da Mota; granddaughters, Fernanda Wiest Targino de Lima and Vitória Wiest Rodrigues da Mota; grandson, Rafael Wiest Rodrigues da Mota; sisters, Ezilma da Silva Ferreto, Zenilda da Silva Zarpellon, Alcenilda Fiuza da Silva, Venilda Fiuza da Silva, Rosy Fiuza da Silva, and Rosemari Fiuza da Silva; and brother, Juarez Fiuza da Silva, all residing in Brazil.
Rose held master's degrees in Physiological Science and Neuroscience; bachelor's degrees in Pedagogy and Social Communication in Public Relations; and completed postgraduate studies in Marketing and Administration and Social Communication in Public Relations. Rose was completing her thesis for a Ph.D. in Physiological Sciences as it relates to Neuroscience in Degenerative Diseases.
Rossilene was loved by her husband, her large family, and everyone who knew her. Rose was a permanent resident of the United States working as an educator for multiple school districts in Broome County and was Director of Religious Education for the Vestal United Methodist Church.
Rose dedicated her life to the advancement in the future of education, not only in the practical sense but also from the perspective of applications in Neuroscience for human development and behavior and learning processes and memory. Her husband loved her "To the Moon and Back" and will always know her as Dr. Rossilene Fiuza Thomas. Rest in peace Rossilene; you will be loved forever and a day!
Rose's place of interment will be with her family in the land she loved, her home in "The South of Brazil". The family will have a memorial service in Brazil and a private memorial service will be held locally for the those who knew and loved her.
A memorial service will be held at 3:00 p.m. on Friday, July 5th at The American Civic Association on 131 Front St., Binghamton, NY 13905. A buffet reception will follow the service.
In lieu of flowers, please consider a donation in Rose's name to either, American Civic Association, Inc., 131 Front Street, Binghamton, NY 13905, phone: (607)723-9419, or Vestal united Methodist Church, 328 Main Street, Vestal, NY 13850, phone: (607)785-3367.