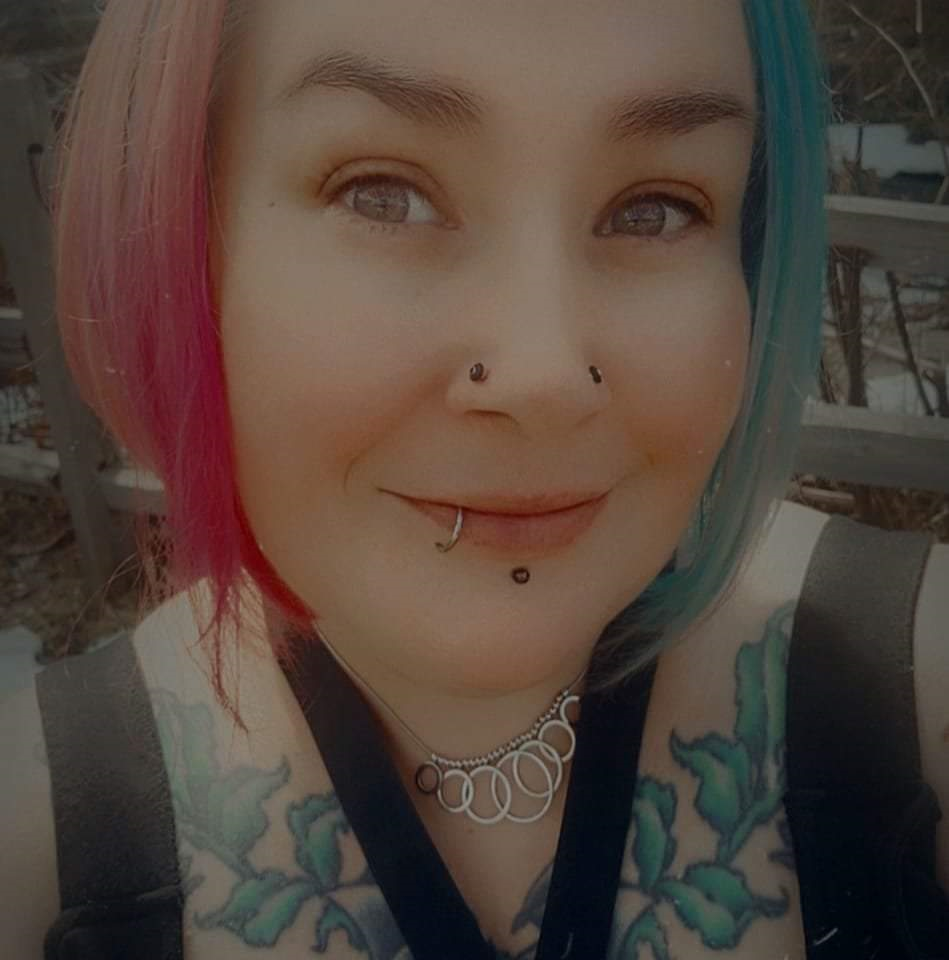 Obituary of Heather D. Luther
Our beloved Heather Danielle Luther entered into God's Kingdom unexpectedly on October 15, 2023 in her Endicott home at the age of forty-two. She loved being kind to people, going to concerts, creating art, watching movies with her family, playing online games, collecting oddities, and making jokes! Heather's artistic talents, kind-hearted nature, unique spirit, and fun-loving attitude will be forever longed for in the community.
Heather was born on August 1, 1981, to June and Daniel Luther who were excited about her arrival. Early on in her life, Heather was given the nickname Spike from her father that referenced the puppy from the cartoon Tom & Jerry, and we all embraced it. Three and a half years later she got a sister named Jeannette Luther. Heather's childhood was one marked by competing with her sister on video games like Mario Kart and Donkey Kong, playing with her dog Zelda, reading bedtime stories with her mom, and exploring outdoors by hunting and fishing with her dad. Heather especially loved reading books from the Little Critter series. Heather's favorite television show growing up was Pee-Wee's Playhouse starring Paul Reubens. He once said, "I tried to be responsible in teaching kids things I thought were good lessons, all in the context of, 'it's okay to be wild and have a good time." This playful and caring show shaped Heather's character. Halloween was a family treat because we all loved dressing up and filling pillowcases with candy. As she grew up, she loved going to concerts with her dad especially the night they took a white limo to Dinosaur BBQ and then saw the Cranberries second row. Heather had a caring mom that guided her path and was there for support. She enjoyed spending time shopping, playing card games, and watching shows, like the X-Files, with her mom. Her and sister would enjoy dining at her favorite restaurant, Little Venice, in Binghamton and attending comedy shows together. Heather and her sister loved the Impractical Jokers and saw them together live. One of Heather's favorite writers, Edgar Allen Poe, once said, "To die laughing must be the most glorious of all glorious deaths!"
Heather become a mother of two beautiful twin girls named Ash and Poe in 2006. Poe and Ash will always remember their mother's great sense of humor. Later on in 2012 she welcomed her first son named Jesse. In 2014, she welcomed another son named Sam. The boys will always remember how caring, beautiful, and strong their mother was. They went on family trips to Knoebels Amusement Park and to the many lakes in New York. They also enjoyed watching movies together at home and at the Cinema Saver in Endicott, NY. Playing online video games was also a favorite activity. Heather loved cats and shared that passion with her family by caring for many cats over the years.
Heather's personal quote on Facebook completely sums up her views, "The things you do for yourself are gone when you are gone, but the things you do for others remain as your legacy." Heather worked for a variety of businesses like Binghamton University, Instacart, Lyft, Save Around, US Postal Service, Broome Developmental Center, and most recently owned her own business called The Carnival of Collectibles, but there was always a common thread; she enjoyed going the extra mile to make someone's day. Heather's heart was bigger than an ocean. For example, after delivering groceries with Instacart she would stay later and have a chat with elderly people that lived alone, or with SaveAround she would take the extra time to listen to someone about their business and their personal life to build a caring connection. Heather was a tremendous friend to so many. Heather also loved drawing attention with her social media to positive things happening in the world and great charitable organizers like Cake4Kids.org. It is a California based organization that provides cakes for children in difficult situations. Heather loved to be generous to others, how can you give your time or resources to help someone today?
Heather was an obvious artist from a very young age, with art being her favorite subject in school. She enjoyed drawing and being able to express herself freely. When she became a bit older, she changed to digital art. At Union-Endicott High School, Heather adored her art teacher Ms. Kay and felt so proud when she was able to sell some of her digital art! In her most recent years, Heather started to collect and sell oddities like medical equipment and rare finds through her business The Carnival of Collectibles. Last year she used her creative talents with a technique called Diaphanization that works with animal specimens. Heather stained them with different dyes which produced stunning and unique art that she sold out at every show. Heather also had many tattoos and piercings to express herself and enjoy life.
Heather also expressed herself by playing the clarinet in the school band for a few years. This helped to deepen her passion for music. Daniel Luther, her father, took her to her first concert to see New Kids on the Block when she was only seven years old. She belted out the lyrics to "Hanging Tough" at the sold-out concert and would then go on to attend many concerts with her father including Green Day, Primus, The Cranberries, a personal favorite Jack White, and many more. Jack White once said, "I have so much music inside me I'm just trying to stay afloat. I don't tend to write for a particular band – you have to just write the songs and then let God into the room and let the music tell you what to do." Heather always treasured listening to music and this can be a way to stay connected with her after her earthly passing.
Heather joins her Uncle Gary Doane, her Aunt Connie Brennan, her Grandfather Clifton Doane, her Uncle Michael Doane and her Grandfather Richard Luther in Heaven. Heather is survived by many loving family members, including her children Ash Luther, Poe Luther, Jesse Brigham, and Sam Brigham, her sister Jeannette Luther, her parents June and Daniel Luther and her grandmothers Janet Doane and Patricia Carol Luther. Many aunts, uncles, and cousins are also carrying on her light.
Heather truly believed in community, service to that community, and connecting to others through time well spent. She believed our world could be improved if everyone simply dedicated a little bit of their time towards the common good. In lieu of flowers, we are requesting donations be made to https://donorbox.org/in-memory-of-heather-luther. Heather's memorial service will begin at 11:00 AM at The Church of the Nazarene in Endicott, New York on the morning of Wednesday October 25, 2023. This was Heather's church for many years of her life. John 16:22 states, "So with you: Now is your time of grief, but I will see you again and you will rejoice, and no one will take away your joy."
Inspired by Heather's giving and generous character a final request is given from Matthew 22:39 "And the second is like it: "Love your neighbor as yourself." Today, and everyday, try to do one kind thing for someone you know, or even someone you do not know. The song "Just Breathe" by Pearl Jam says, "Everything you gave, and nothing you would take, nothing you would take, everything you gave" and this song can remind us to give freely like Heather did. May she rest in peace as her spirit continues to shine through the kindness of others still on this Earth.
Below is an example of Heather's unbelievable kindness and character:
https://www.pressconnects.com/story/news/local/2015/03/02/woman-hopes-random-act-kindness-inspires-others/24287283/
For those who are unable to attend the funeral in person, live streaming during the service, as well as a later recording, can be viewed on the church's Facebook page: https://www.facebook.com/endicottcommunity
Share Your Memory of
Heather



Celebrating Over 135 Years of Serving our Families