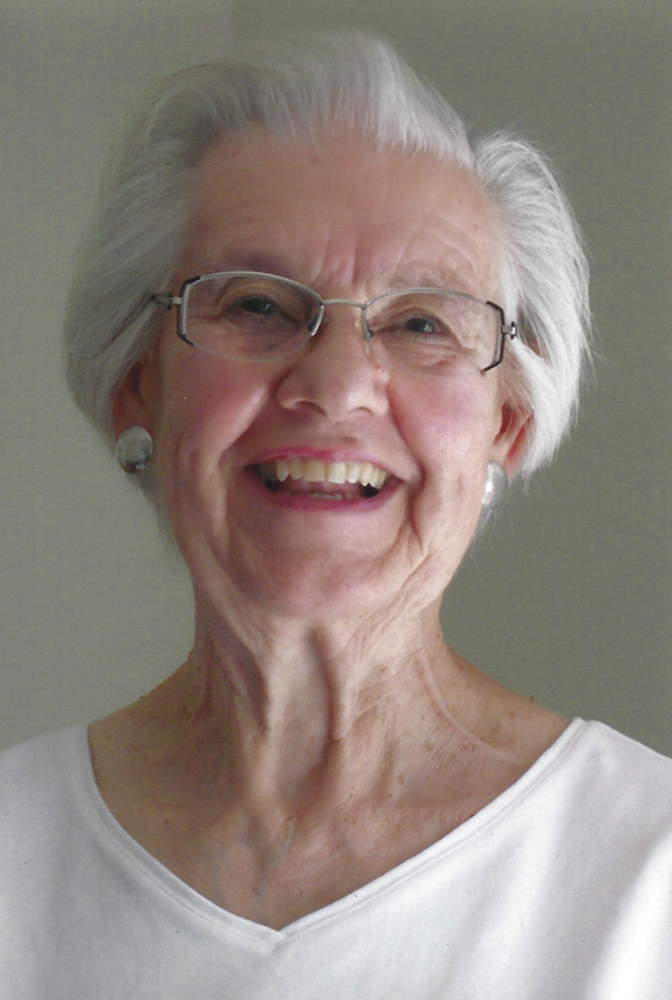 Obituary of Marilyn M Myers
Marilyn Martin Myers, age 87, passed away peacefully on Tuesday, January 21st after a brief battle with pancreatic cancer. Marilyn was born on October 3, 1932 in Albion, NY to Kenneth and Edith Martin. She is predeceased by her parents, her beloved husband of 46 years, Clifford Myers, and her brother, Edward Martin. Marilyn is survived by her two children, Ken Myers (Beth) and Greta Myers (Bill Murphy), her two granddaughters, Kate Petcosky-Kulkarni (Abhishek) and Anna Petcosky, her sister, Donna Heisig, her nephews, Steven Heisig, Paul Heisig (Dawn), Chris Heisig and Dan Martin (Barbara), her niece Deb Martin (Tony Hadzi), her grandniece Kara Mahlmeister, her grandnephews Peter Heisig (Emily), Adam Heisig, Shane Martin and Cole Mahlmeister, and her former son-in-law, Thomas Petcosky, as well as her many close friends from Good Shephard Village in Endwell and her church. She and Cliff, a chemistry professor at SUNY Binghamton, settled in Vestal, NY in 1963, and traveled together extensively, including sabbaticals living in Los Alamos, New Mexico, Brussels, Vienna, and Uppsala, Sweden. Marilyn's travels nurtured her interest in diversity and the views of others. Marilyn graduated from Jamestown High School, received a Bachelor's degree in Home Economics from Purdue University, as well as a Masters in Sociology from SUNY Binghamton. She taught home economics at Binghamton Central High School for three years, and then spent most of her career as the Program Leader in Human Ecology at Cornell Cooperative Extension. Her focus at Extension was a nutrition education outreach program for low-income mothers and children. An incredibly active member of her community, Marilyn led service and volunteer efforts for several organizations. Most notably, she served as the local President of the League of Women Voters both in Alfred, NY and in Binghamton. With the League, she enjoyed studying critical governmental issues and planning programs. Marilyn delighted in being part of a group of women and men who strive for fair and effective government. Marilyn was a woman of great faith, experiencing as she termed it "a sturdy assurance of God's love and calling". She was actively involved in her churches (the former South Hills Presbyterian and United Presbyterian Church of Binghamton). She was a Commissioned Lay Preacher in the Presbyterian Church, leading worship for many congregations in rural areas. With United Presbyterian, Marilyn served on the Session, and used her enthusiastic leadership style to support the "Walk with Me" re-entry program for formerly incarcerated community members and the Community Meal program to support the homeless and hungry. In 2010, Marilyn became one of the first residents of Good Shepherd Village in Endwell, where she was actively involved in efforts focused on environmental sustainability and health and nutrition. Marilyn adored her family and supported them beyond measure. She eagerly traveled to California to visit Ken and Beth, loved going to Boston to visit Kate, Abhishek and Anna, and spent every Sunday night cooking up new recipes for her weekly dinner with Greta. She officiated Greta and Bill's wedding six months ago. Marilyn was an avid gardener, talented cook, voracious reader, wonderful knitter, enthusiastic patron of the arts, inquisitive genealogist and fierce advocate for justice. A funeral service will be held at United Presbyterian Church of Binghamton (42 Chenango Street) on Saturday, February 8th at 9:30am, led by Marilyn's pastor, Kimberly Chastain. Visiting hours are on Friday, February 7th from 3:30pm-7pm at Coleman and Daniels Funeral Home at 300 E. Main Street in Endicott. In lieu of flowers, the family asks that donations be made to the Social Justice Ministries of the United Presbyterian Church of Binghamton, 42 Chenango Street, Binghamton, NY 13901.
To plant a tree in memory of Marilyn Myers, please visit Tribute Store
Services for Marilyn Myers
There are no events scheduled. You can still show your support by planting a tree in memory of Marilyn Myers.
Visit the Tribute Store
Share Your Memory of
Marilyn



Celebrating Over 135 Years of Serving our Families